By La Risa Lynch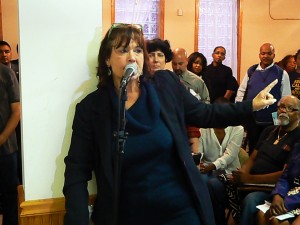 It's the last and considerably the biggest parcel of lakefront property  to be developed on the city's south side creating nearly 140,000 jobs and more than 13,000 housing units.
But residents of the southeast side communities that ring the Lakeside Development want a community benefits agreement (CBA) to ensure they are not cut out of jobs or displaced by possible gentrification that could come to the South Chicago community.
"Our goal is to prevent gentrification…," said Amalia NietoGomez, executive director of Alliance of the Southeast (ASE), a member organization of Coalition for a Lakeside CBA, a partnership of 17 community organizations pushing for the agreement.
"This CBA is important because we want the folks that have stayed in the community, that have built the community continue to be able to live in the community as the development proceeds," NietoGomez added.
Read the rest of Residents want community benefits agreement for Lakeside development